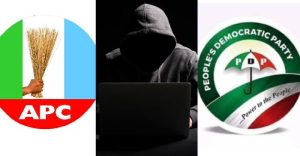 Chief mobiliser for the All Progressives Congress (APC) in the just-concluded presidential election, Ekene Enefe, has accused leading opposition parties, the Labour Party and Peoples Democratic Party, of spamming the server of the Independent National Electoral Commission (INEC) with several hack attacks.
According to Mr Enefe, the attacks were aimed at compromising the commission's server to produce election results which are only favourable to their parties against the actual will of the voters.
Speaking on ARISE TV on Friday, Mr Enefe accused the parties of hiring foreign hackers to intrude on INEC's server, an action which he later described as unsuccessful.
"Each party has a situation room. They (sic) …the result and they knew they were losing and they want to cling on something and what they want to cling on was the transmission of the result from the portal. People don't know how many times INEC server was hacked and attacked and these were done by political parties that brought in Russian and Israeli hackers (sic) …to hack into INEC server and to transmit their own results and create chaos," he said. "None of them succeeded."
He further said the repeated hack attempts by opposition parties made the electoral body unable to transmit results electronically, stating, "That's why, to the best of my knowledge, the election was not transmitted on INEC server."