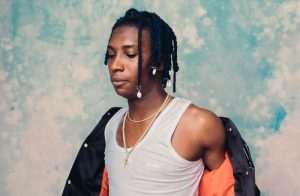 Bella Shmurda Support Mohbad: Nigerian Artiste, Bella Shmurda sits with Chude Jideonwo to discuss his journey to fame, his inspiration, and speaking up when Mohbad had issues with his record label.
Speaking on his tweet when Mohbad was in conflict with his previous label, Marlian Music, he shared,
"Mohbad is my bro, and before I spoke out, I had been in this thing. Though it was low key.

I saw what happened, even from the first time till this second time. I have always been in loop of things, but at that point someone had to speak for him. At a point, Myself and Mohbad were in an apartment, and he said he wanted to jump from upstairs."
He narrated how Mohbad was going to take his own life but was saved by his girlfriend, who got in just in time.
"You can't just keep going under and these people are just forming there's nothing happening. Something is happening, and it is going to the extreme", he added.
Talking about his musical career, he shared, "I recorded my first song when I was thirteen, even when I was not getting any encouragement. But this is what I wanted to do, however getting paid from it now is more vibe for me and more reason to do it.
While I was making music as a nobody, I was not singing to make name or to 'blow', I was singing for the passion. I was singing to make a change with my voice, my lyrics, and sound. It wasn't the 'blow' for me from the onset, it was just the fact that I loved this thing and I want to do it."
Bella also shared how the likes of Brymo inspired him, "Brymo is from my hood (Okoko) and his songs are good. Even when you have not blown, knowing the value of what you do is a big thing. It is not until you have that popular name".
On dealing with the distractions that came with fame, and how his family and his team helped him to stay focused, he shared,
"I am Bella Schmurda; and I am getting small change.

They call me for parties, and I attend, even in places I am not supposed to be because I am the life of the party, because of the momentum. But that is not it, you have to know where you are going, because when this thing (called fame) comes, it comes with a lot of things – negative and positive.

That is why I can appreciate my mum, my family and my team. If someone says anything online about me, she will quickly call me. I am grateful to God that I have good people around me. It is so good, but I just had to manage it, if not you will lose it."
Bella also shared the most important things about his success story, which was, 'knowing what you want to do, and chasing it'. "It is another thing if you want to go into something and you don't know if it will work, you are going in 50-50, but if you put your mind into something it will work," he concluded.