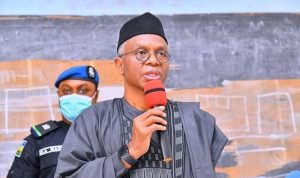 Nasir el-Rufai, governor of Kaduna has said the All Progressives Congress (APC) asked President Muhammadu Buhari to remove fuel subsidy, he refused.
This is as he maintained that the APC did not promise to retain fuel subsidy or redesign naira notes.
Speaking on Sunrise Daily, a Channels Television programme, on Wednesday, el-Rufai said the naira redesign policy is not in the party's manifesto but a personal decision.
He said the party had advised the president to remove the fuel subsidy, which he described as a "Nigeria problem".
In October 2022, Godwin Emefiele, CBN governor, announced the plan to redesign the N200, N500, and N1,000 notes, and asked Nigerians to deposit their old notes before January 31, 2023, when they would cease to be legal tender.
Though the deadline has been shifted to February 10, Buhari has declared his support for the policy and said "there's no going back" on it.
Meanwhile, Bola Tinubu, the presidential candidate of the APC had said the lingering petrol scarcity and the naira redesign were planned by saboteurs to disrupt the forthcoming elections.
El-Rufai said the president retained the subsidy because he believed that its removal would have adverse effects on Nigerians.
"The problem is not the APC government but the people of Nigeria who are not willing to face the truth. People are paying N300 to N500 per litre in part of the country and they have to queue for hours to get this all because of this unsustainable and broken down subsidy regime that we have chosen to maintain for the past 50 years. It has not worked," he said.

"It is not an APC problem, it is a Nigeria problem because today if president Buhari said remove subsidy, the NLC will be out on the street protesting. We have had that anytime the price slightly increases.

"It is a national conversation. The presidential candidates, including Atiku Abubakar, Peter Obi, and Bola Tinubu have said they will remove the fuel subsidies. They have to unless the country will go bankrupt. The next government must remove it otherwise the country will collapse.

"This fuel subsidy requires a national conversation. It is not a partisan thing, it has been going on for years, we tried to solve it under the Buhari administration but we were sabotaged and we are where we are.

"And to be honest, we have had the conversation at the level of the national economic council chaired by the vice president and we all agreed it should go. It was Buhari himself that took the decision that this subsidy will hurt the poor and he won't do it.

"That is why our presidential candidate in the same party is saying he will remove it. It is not a party position but the personal position of the president.

"If you were at our party, we didn't promise that we were going to keep the fuel subsidy or redesign the currency. It isn't in our manifesto. You need to separate the personal decisions of some people in the villa from the manifesto of the party. It is important to understand that."