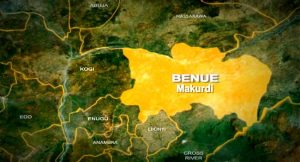 It was a black Thursday in Benue State as suspected herders renewed their onslaught on communities in two local government areas of the state.
Sources disclosed that the herders at separate times on Thursday attacked Waya in Jato Aka and Mbapa as well as  Ikyande communities in Kwande and Gwer West Local Government Areas of the state respectively.
Scores were reportedly killed but so far, eight corpses were said to have been recovered at Waya in Jato-Aka in Kwande local government area and 12 corpses recovered from Mbapa and Ikyande in Gwer West council as of 3:30 pm on Friday.
While the marauding herders invaded Waya around 11:00am on Thursday when the people were in their farm, the killer herders were said to have invaded Mbapa and Ikyande communities at about 4:30 pm the same day and murdered several persons.
At Waya in Kwande, the marauding herders were said to have ambushed their victims on their farms and unleashed terror on them and killed many of them while they also kidnapped several persons.
Those killed included a family of five, an eyewitness said.
A native, who simply identified himself as Terhemen, said, "The herdsmen invaded the Waya community in Jato Aka at about 11am when the victims were on their farms and the herders moved from one farm to another, killing people.
"A family of five was wiped out completely, including one-year-old and three-year-old kids. As I speak, many people are still missing."
Another native, Akerigba, who spoke with Saturday PUNCH on the phone, said eight bodies had so far been recovered.
He identified the  names of recovered bodies that were  severely mutilated to include Gbaeren Orsoo, Terdoo Tsega, Bemdoo Tsega, Abacha Tsega, Terkaa Tsega, Aôndoaseer Tyov, Iorhen Atim and Aôndowase Igba.
Chairman of Kwande Local Government Area, Tartor Chianson, who confirmed the killing, said eight corpses had been recovered and taken to the morgue at Jato -Aka.
She said the local government had for a long time been facing attacks by suspected herders, adding that in the past three months, no fewer than 50 people had been killed.
Chianson stated, "My people went to their farm on Thursday because it rained on Wednesday night. So, they went to their farm to prepare the land for planting and they were ambushed and killed on their farms at Waya community close to Anwase.
"The herdsmen came a few days ago and set a lot of houses ablaze. They also kidnapped some other persons, took away their motorcycles and later brought their mutilated bodies and dumped them.