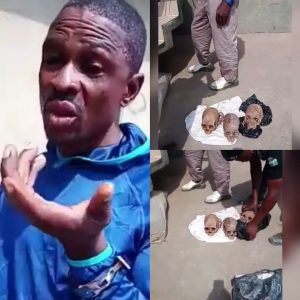 A 45-year-old man identified as Rasaki Asiwaju, has been arrested over alleged possession of three suspected human skulls in the Ayobo area of Lagos State.
The PUNCH reports that while Rasaki was transporting the skulls, some officers conducting a stop and search approached him.
The policemen, who saw Rasaki carrying a black nylon bag, demanded what was in the bag but he gave no meaningful explanation.
In a bid to ascertain what was in the bag, the policemen were said to have opened it and found three skulls.
Upon realising that he had been caught, Rasaki was said to have broken down in tears as he lamented that his life had been ruined.
The incident happened on Monday, January 16, 2023.
In video clips shared on Twitter, the suspect, who was dressed in a blue shirt and brown trousers, was seen covering his face in shame.
According to him, he found the skulls in a gutter in the Ayobo axis of Lagos state and decided to take them for his personal use.
He said,
"My daddy has died; you have already spoiled me, I saw the skulls inside the gutter this morning at Ayobo side. Ha, my life has spoiled, my life has spoiled.

"I am not taking them anywhere, they are for me; they are for my personal something. I know it is an offence, please."
The arresting team was led by Assistant Superintendent of Police, Okoh Joseph.
It was gathered that the Patrol Team accosted Rasaki of 30, Omisesan Street, Moshalashi, Kollington Alagbado, Lagos with a BAGCO bag containing three dry human skulls.
The state Police Public Relations Officer, SP Benjamin Hundeyin, confirmed the incident, adding that the case had been transferred to the State Criminal Investigation Department, Yaba, for further investigation.
He said,
"The suspect's name is Rasaki Asiwaju, 45. The case has been transferred to the State CID, Yaba. He was arrested during a stop-and-search operation."
Man caught with 3 human skulls in Lagos pic.twitter.com/FUM5t1gIvm

— GistReel.Com (@GistReel) January 20, 2023