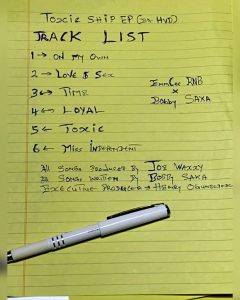 After successfully releasing "On My Own" in April 2022; multi Award winning OAP EmmCee RNB, in collaboration with sensational AfroSoul artiste Bobby Saka;  plan on taking the music industry by storm  with a phenomenal Extended Play captioned ''Toxic Ship EP(B4 HVD)", which is home to 6 solid songs.
The release of EmmCee RNB's first professional body of work the 'Toxic Ship EP(B4 HVD)" boasts the best of a combination of the AfroSoul & HipHop genres and is also the first project released by the award winning OAP & music enthusiast.
With over 13 years of releasing major collaborations singles with different Nigerian artiste, EmmCee RNB had made earlier plans for a different body of work to be released featuring different famous Nigerian artiste in mid 2021 after the release of "Tell" Featuring Oga Network, Before the idea of doing a solo collabo EP with Bobby Saka was conceived,
Now here comes the Extended Play captioned "Toxic Ship EP(B4 HVD)"
All Songs on the EP was produced by Joe Waxxy.
DOWNLOAD/STREAM Full EP: https://emmceernbfeatbobbysaka.fanlink.to/ToxicShipEP