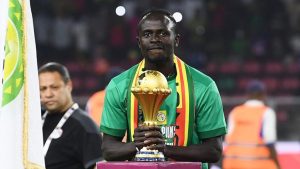 rn Munich forward, Sadio Mane, has said Liverpool almost stopped him from playing for Senegal at the Africa Cup of Nations earlier this year.
Mane claims he was asked to sign a contract to take responsibility for his death, after suffering a concussion against Cape Verde at the tournament.
"Liverpool put pressure on the federation and wrote a letter to Fifa that I needed at least five days rest so that meant I was to miss the quarter-finals," he told Pro Direct Soccer France.
He added: "I called the federation president and told him we need to have a meeting because I have to play. I could give up my life.
"I said 'I know I shouldn't play but let us have a contract. It will be my responsibility, I will sign'.
"If I die, they have to say it is my fault. No one's fault. But they said 'Sadio, you cannot play' but I said 'no, no, it is out of the question'."
Mane went on to net the winning spot-kick, as Senegal beat Egypt in the final of AFCON 2021.