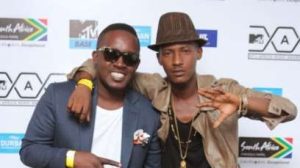 M.I Abaga has for years been recognized as rap music royalty, granted the man did great things for rap music in Nigeria and while many of us might argue that M is untouchable, there is a contender who is none other than Jesse Jagz. Jesse is M.I's brother, in case you have been living under a rock. For years, thanks to M.I's own words and evidence from Jesse's somewhat sparse discography, Jesse Jagz has been rated greater than M.I; but now, Jesse Jagz has also pointed out to M.I that he is the better rapper.
It all started when Jesse Jagz apologized to his fans on Twitter for the delay in the release of his new album. He then launched into a round of questions and answers.
I've missed you guys xoxo . Can't wait to share my new music with you'll.Omo Wetin dey happen nw? #Talk2Jargo

— Jesse Garba Abaga (@Jessejagz) May 14, 2022
His brother M.I, responded to his post by quoting him and asking who he believes is best in rap between the two of them.
"Who is a better rapper between you and Mi?" MI tweeted.
Who is a better rapper between you and Mi? https://t.co/ePMX0261VO

— M.I Abaga (@MI_Abaga) May 14, 2022