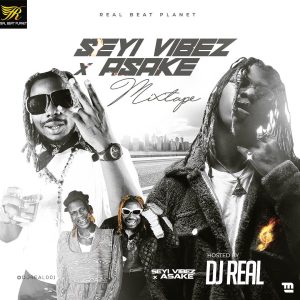 No doubt these two Nigerian music artists "Seyi Vibez and Asake" are currently industry rave of the movement.
There's no doubt these two are doing fine in the music business to date. Recently, both acts released their albums which got songs trending across the world.
Today, 247ariya.com teams up with one of her top rated Disc Jockey "DJ Real Da Emir Of Lagos" to deliver this mixtape titled "DJ Real – Seyi Vibez x Asake Mix".
NOTE:- If you're a huge fan of both artists then waste no time adding this to your playlist. Jam it.
Tracklist:
1. Seyi Vibez – Kun Faya Kun
2. Asake – Organize
3. Seyi Vibez – Bank Of America
4 Asake – Dupe
5. Seyi Vibez – Chance
6. Asake – Joha
7. Seyi Vibez – Psalm 23
8. Asake – Loaded
9. Seyi Vibez – Para Boi
10. Asake – Terminator
11. Seyi Vibez – Bullion Van
12. Asake – PBUH
13. Seyi Vibez – Billion Dollar
14. Asake – Sungba
15. Seyi Vibez – IG Story
16. Asake – Dull
17. Seyi Vibez – Ogochukwu
18. Asake – Omo Ope
19. Seyi Vibez – Ife
20. Asake – Sunmomi
21. Seyi Vibez – +234
21. Asake – Palazo
22. Seyi Vibez – Anybody
23. Asake – Trabaye
24. Seyi Vibez – God Sent
25. Asake – Mr Money
26. Seyi Vibez – Bad Type
27. Asake – Bandana
28. Seyi Vibez – Darling
29. Asake – Baba God
30. Seyi Vibez – Okay
31. Asake – Nzaza
32. Seyi Vibez – Big Vibe
33. Asake – Muse
34. Seyi Vibez -G.O.A.T
35. Dj Real Outro