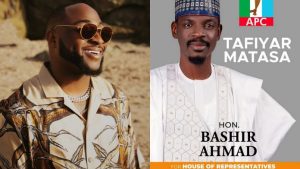 Davido has mocked Buhari's ex-aide on new media, Bashir Ahmad, having failed to secure APC's ticket to contest the House of Representative seat.
The media aide was vying to represent the people of Gaya/Ajingi/Albasu Federal Constituency, Kano state.
Immediately after the primaries, Mr Bashir reacted saying he disagrees with the result. He alleged that there was no election as he was unable to access the premises of the election alongside his supporters.
He went on to post a video to support his claim that the election was rigged.
Reacting to the video, Davido mocked him saying Karma was at hand. "The so called elections in Osun nko ….. KARMA A BITCH," Davido wrote.
Bashir Ahmad has been trending since he lost out in the primaries.
See Davido's tweet below.
The so called elections in Osun nko ….. KARMA A BITCH 😂😂 https://t.co/dohIYiM5bQ

— Davido (@davido) May 29, 2022