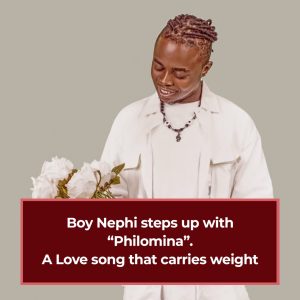 In a highly proliferated music industry, it takes serious exhibition of uniqueness in vocals and lyrical prowess to capture the hearts of lovers and turn critics to fans. Nephi's professional music journey so far has been a smooth sail of talent showcase and growth.
The Edo born music maestro has done so many magic with his captivating blend of Afro-Pop, fused with RnB and alternative sound. No doubt, Boy Nephi is multi-talented, his sound is contagious, his lyrics is ubiquitous, relatable to everyone.
His debut music project "The Movement EP" which was released late last year offered an insight into what Nephi has to offer in the music industry. The EP which is a perfect collection of amazing love songs in different tempos and tunes inspired lots of stream numbers as well as positive comments from music lovers home and abroad.
Nephi's ride to spotlight was also made easy with songs like "Awolowo", "For You" and "Blue Light" setting his debut music project "The Movement EP" up for huge reception.
About 5months after the release of his debut EP, Nephi has hit the music space again with a brand new tune titled "Philomina". The song turned out to be a reflection of an improved version of Nephi as he bodied the groovy beat with the right vocal progression and lyrical content.
"Philomina" is a song that x-rays vulnerability of a man in love, while confessing his love triggers. The song creates a mental picture of beauty being chased by either love or lust.
"You waist line make me want to sitdown
but at least understand that I cannot slow down ah ah"
This song is another proof that the ink in Nephi's lyrical pen is made in right proportion of innovation and imagination which makes it easier to make beautiful songs that oozes creativity.
Meanwhile, in your playlist of chilled or groovy afrobeat love songs, "Philomina" is a song that carries weight of a hit song and it deserves a space.