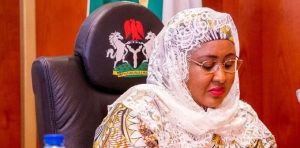 SaharaReporters had on November 21 reported that the wife of the President was rushed to an Abuja hospital after suffering a leg fracture.
The wife of President Muhammadu Buhari, Aisha, sustained injury while physically abusing a student of the Federal University, Dutse, Aminu
Adamu Muhammed, who was arrested over a Twitter post.
This was confirmed by the publisher of Daily Nigerian, Ja'afar Ja'afar, who noted that Mrs Buhari while attempting to throw a kick on the student, slipped and fractured her leg.
SaharaReporters had on November 21 reported that the wife of the President was rushed to an Abuja hospital after suffering a leg fracture.
Meanwhile, while giving an update, Ja'afar said, "From my findings, it was not SSS but plain-clothed policemen who arrested & tortured a final-year student
@aminullahie
and another lady named Zainab Kassim (a former social media aide to First Lady). The operation was engineered and executed by Aisha Buhari's ADC Usman Shugaba.
"It may sound like a fairy tale, but the following is actually what transpired: the duo were beaten to a pulp in the presence of Mrs Buhari by three security aides. While Aminu and Ms Kassim were being beaten, the First Lady felt that they were not beating them well, so she joined them.
"As she attempted to throw a kick, she slipped and fractured her leg. It was the injury she suffered during the assault that took her to Cedar Crest Hospital for treatment.
"While Ms Kassim was released on the condition that she would not speak to the press, the final-year stude
nt may face trumped up charges of defamation. This is sad for democracy."
SaharaReporters had earlier today reported that policemen acting on the orders of the Aide-De-Camp to Mrs Buhari, Usman Shugaba had arrested the 23-year old student for tweeting that the wife of President was feeding fat on poor people's money.
The tweet, which was posted in Hausa reads: "Su mama anchi kudin talkawa ankoshi."
The tweet, which was accompanied by a photograph of Mrs Buhari, loosely translates as "Mama has eaten poor people's money and is now full".
According to his friends, he made the post because he was frustrated about the prolonged strike by universities across the country.
The strike started in February 2022 and ended in October after eight months.
However, on November 8, 23-year-old Muhammed was picked up by security operatives on campus and was reportedly beaten up following his arrest around noon.
He had said he was beaten and taken to the Presidential Villa in Abuja.
SaharaReporters earlier reported that Muhammed, a final-year student in the Department of Environmental Management and Toxicology, in June 2022 posted on Twitter that Mrs Buhari had suddenly added weight after taking part in plundering the nation's meagre resources as the masses endured hardship under her husband's regime.
Muhammad's arrest has caused a lot of concern in the university and also among the parents considering the security situation in the country.
The arrest sparked outrage on social media as many people criticised the First Lady, who is yet to publicly comment on the issue.