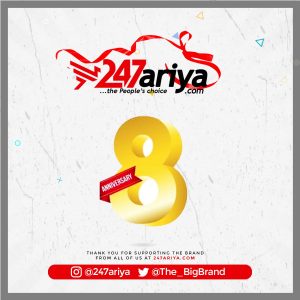 Its nothing but joy on a day like this, there is just so much to be thankful and grateful for looking back how far we have come its obviously a journey worth celebrating because its indeed a 'SUCCESS STORY'.
It's 8years and 247ariya.com is still grinding in the business of news and entertainment content in Nigeria, all thanks to our ever-loving fans.
Today, October 4th, 2021 makes it 8years that we have been serving the world music content, news, and entertainment posts.
As a brand, we believe 247ariya.com means so many things to so many people.
From 2013 till now, the brand has evolved to so many things in Nigeria's internet space and we appreciate you for always choosing us.
Trust us when we say, we wouldn't be around today if not for you guys. We love you
From all of us at 247ariya, We say a very Big Thank You to everyone of You
You guys will be uplifted in your various lines, we love and promise to keep you all Thrilled forever. 247ariya.com has come to stay.