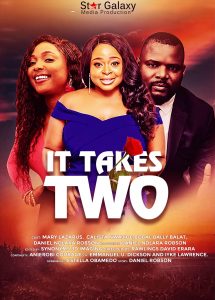 IT TAKES TWO 
Filmed in LONDON UK and LAGOS Nigeria – 2021 the biggest and most talked about  Movie, IT TAKES TWO. filmed with Netflix 
standards requirements, Will premiere in London and Lagos on the 20th of October 8:pm London GMT "This will be an online preview and official launch of the movie.
The Creater of the movie, Daniel Ndlara Robson a writer, actor and producer. He is the founder and CEO of Star Galaxy Media, Based in London United Kingdom, A  Zimbabwean born who has lived most of his life in thr United Kingdom driven by his passion for creativity  Daniel Ndlara Robson has produced a number of films, he is also the producer of Broken Cross, also produced Dangerous Zone, Lethal Beast, Betrayal Drama Series, Daniel has also featured in a numerous productions in the UK main stream film industry where he began his carerer, he has featured in Shows like Blind eye films,   Detective CBCS Documentary The  LifeMcntyre
secret murder files, Reality show called, The London Hustler. Palstic toys as Ceaser. Lethal Beast another huge success movie he produced. He has also appeared in numerous ITV and Channel 4 shows He's gained the reputation for being a very professional and fierce business man, particularly within the entertainment industry.
IT TAKES TWO movie is of no doubt a   Netflix  quality  and  is generating high buzz and huge interest from the general public, media and varied business organizations.
For more information about IT TAKES TWO and to view the trailer click on link below:
For more information visit our Social media Page Star Galaxy Media